Andrea Bath's Bio – RHN
Andrea Bath – Bio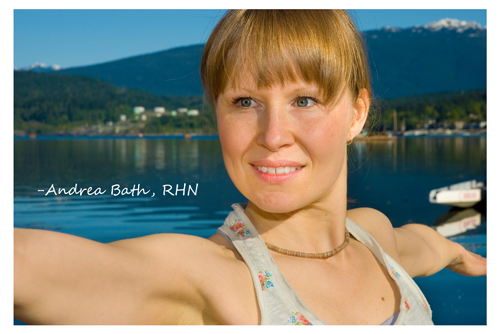 Andrea graduated as a Registered Holistic Nutritionist from the Canadian School of Natural Nutrition in Vancouver. After many years of practicing and teaching yoga she knew that there was more to the connection to the body than just movement, and so without hesitation, signed up for school and is now proud to be a part of the team at Coquitlam Wellness offering her nutrition counselling services.
"The food we put on our bodies IS our fuel, and each one of us being so uniquely different the fuel we choose will also differ, not only from each other, but within our own cycle of life as we continually evolve." Throughout most of her teenage and young adult life Andrea struggled with body image issues, fighting every step of the way by working out and trying every new fad diet that came about. The internal battle of all this caused a tremendous amount of stress that manifested as chronic digestive difficulties later on in life. In facing this realization head on, Andrea truly believes in treating the whole person.
"There are many layers to why illness occurs and to why the optimal performance of our bodies can come to a plateau." With food and movement being two and Andrea's biggest passions she can often be found intuitively navigating herself though the kitchen, creating new recipes or adding a healthier spin on old ones. She takes this intuition onto her mat through teaching and practicing yoga and loves to be connected to nature be it walking , running, or hiking and loves doing this best with the company of friends and family.