Join Our Network of Passionate Therapists and Grow With Us
Are you a passionate therapist looking for an opportunity to work in an established sport therapy environment with a fun and supportive culture? One that cares for your mental, physical, and financial wellbeing?
Do you want ongoing weekly mentorship without being micromanaged?
How about letting go of the stress of marketing and recruitment so that you can just focus on working with your motivated patients?
If you're ready to leave behind the limitations of traditional therapy environments and step into a world of innovation, collaboration, and endless possibilities, look no further. Discover CWC Sport Therapy, an exceptional clinic designed for exceptional clinicians like yourself. Our team is dedicated to cultivating a space where patient-centered care is the gold standard, and continuous professional growth is encouraged and celebrated. Surround yourself with a community of talented and passionate individuals, driven by a shared mission to make a positive impact on the lives of our patients.
With CWC Sport Therapy, you'll reap the benefits of a thriving work atmosphere that prioritizes financial rewards, work-life balance, and personal satisfaction. Our unparalleled support system empowers you to focus on what you do best – providing exceptional care, while we take care of the rest.
Enjoy a guaranteed salary, attractive compensation, and unique growth opportunities… Say goodbye to stress and frustration and hello to a rewarding career where you can make a difference!
If you're tired of feeling undervalued and underappreciated in your current role, it's time to make a change. Send us your resume today and let's get a conversation started. We'll get back to you within 24hrs, often sooner.
We Offer You:
Options to start with guaranteed salary and progress to fee-splits ($)
Optional monthly/quarterly financial incentives ($)
4-5 new patients per week, ensuring you build your caseload quickly ($)
Scheduled 1-on-1 support sessions with our clinic director, ensuring you're building an oversubscribed caseload ($)
Up to $2500 in education allowances per year ($)
Clinical mentorship program scheduled weekly and monthly for new grads or clinicians looking to upgrade their skills ($)
Paid subscription to Embodia or Physitrack ($)
Options for vacation pay or paid time off via employment or independent contractor relationships ($)
Health benefits and a free gym membership for unlimited group fitness ($)
Company sponsored dinners and adventures ($)
Formal onboarding
No admin work, we manage all reception, appointments, invoicing, and billing for you
Private assessment rooms
Dedicated gym space, squat racks, and fitness equipment for your patients
Other perks (see below)
Your Clinical Mentorship Roadmap: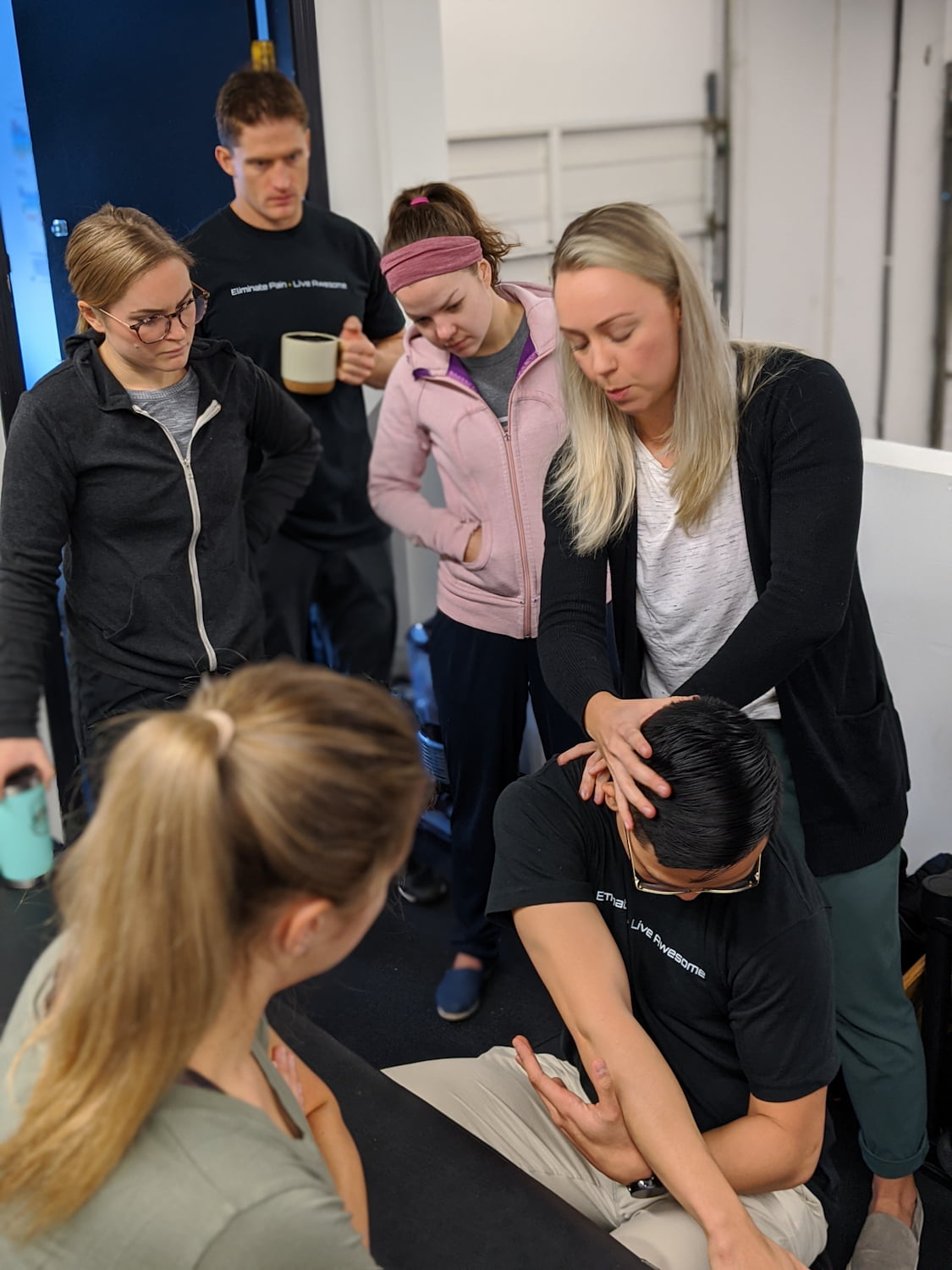 For us, learning is a never ending process. Whether you are a seasoned clinician or a new graduate, our mentorship is structured to help you continue to enhance and refine your clinical skills.
Here's How our Direct Mentorship Program Works:
Ongoing 1-on-1 mentorship and guidance
Tailored to your individual needs and goals
Support until confident in clinical abilities
Formalized onboarding
Weekly or bi-weekly meetings with dedicated clinical mentor
Personalized course and certification roadmap for continuing education
1-on-1 assistance in building and maintaining thriving caseload with our clinic director
Our Focus:
Exceptional patient outcomes
Creating effective and detailed treatment plans
Increasing patient compliance
Facilitating behavioral change
Helping patients hit new milestones and achieve their goals
What's in it for you?
Increased confidence in providing outstanding patient care!
Here's what you can expect when you join us:
At CWC Sport Therapy, we believe in creating a supportive and caring environment for our team members. Here's what you can expect when you join us:
Attractive compensation: We want our team members to feel valued and rewarded for their contributions. That's why we offer attractive compensation, with the potential to earn over $100K per year as a professional, without burning out or working more than 30 billable hours per week. We also offer unique financial growth opportunities, providing an environment where you can free yourself from the limitations of relying solely on "fee for service" income.
Busy practice: Many of our therapists are currently oversubscribed with patients on their waitlist in need of care. When you join our team, you'll get busy right away without worrying about marketing or attracting patients. This ensures that your day is spent doing what you love – helping patients reduce their pain and improve their performance.
Professional development: We're committed to investing in our team members' ongoing education and development. We offer formalized mentorship sessions, continuing education opportunities, weekly & monthly caseload review, and other resources to help you refine your skills and improve your competency. And we'll support your growth without micromanaging you or looking over your shoulder every minute.
Engaged clinic owners: Our clinic owners are passionate about what we do, and they're actively engaged in supporting our team members and patients. They aren't actively treating patients all day long, which allows them to focus on creating a supportive and dynamic environment for our team. From offering coaching and mentorship during any down time, to providing unique growth opportunities and investing in our team's professional development, they're always there to help us achieve our full potential.
A strong sense of belonging: You'll be part of a diverse team that connects, collaborates, and celebrates. We genuinely care about our team members and our patients, and we'll work with you to help you balance your professional and personal life, ensuring career fulfillment and longevity as a therapist.
An amazing facility: We're located in a massive 7300 SQ FT facility that's fully equipped with everything you need to deliver amazing care. From electric hydraulic tables and linens to showers, change rooms, and fitness equipment, our clinic has everything you need to provide top-notch care to your patients. Our facility is often double to triple the size of many clinics, providing you with plenty of space to work and grow.
Relocation assistance: We understand that starting a new job can be a big move. That's why we offer relocation assistance and financial support to help you. We want to make the transition as smooth as possible so that you can focus on doing what you do best – helping patients.
Learn About Our T.E.A.M. Philosophy & Career Progressions Options:
At CWC Sport Therapy, we're all about teamwork. That's why T.E.A.M. is one of our core philosophies. It stands for Together Everyone Achieves More. We believe that every member of our team has something valuable to contribute, and that no one discipline is more important than the others.
By combining the experience and education of all our professionals, we're able to provide our clients with the best possible care. We encourage open communication and patient flow, which allows us to craft treatment plans that produce lasting results and help to eliminate pain effectively and efficiently.
We're passionate about helping our clients live their best lives. We believe that by working together, we can achieve more than we ever could alone.
Career progressions OPTIONS:
Step 1: Focus on your clinical work and be a super-star therapist for your patients
Step 2: Diversify your clinical work and get involved in the business side of things
Step 3: Become a Clinic Director down the road
Step 4: Join us as a Partner and help us expand our footprint and impact more people
What Makes Our Company an Excellent Place to Work At?
Oversubscribed patient demand and proven marketing and business systems that we've established over the past 10+ years.
A competitive professional wage without burnout.
Unique financial incentives that provide improved work-life balance for our clinicians and superior patient outcomes.
Steady inflow of new patients, without worrying about advertising.
Athletic population with intriguing cases, who are compliant and wanting to improve their health.
Scheduled weekly mentorship and practitioner development, without micromanagement.
Fun culture, awesome social life, while focusing on continuous improvement and the pursuit of excellence.
Full-time front desk staff and admin support.
A diverse team that supports each other and promotes cross referral.
Learn about our facility:
At CWC Sport Therapy, we're proud to offer a massive facility that's designed to meet all of our clients' needs. Our 7300 Sq Ft Clinic/Gym is fully equipped with everything you need to deliver amazing care, including:
5 treatment rooms

2 waiting areas

1 reception area

4 bathrooms

2 change rooms

A fully equipped functional fitness gym
Our Clinic/Gym is generally 2-3 times the size of most, which allows us to provide our clients with the space and resources they need to achieve their goals. We invite you to visit this page to see pictures of our facility.
This is what we value in our team members:
A dedication to constant improvement. Hunger for wisdom. Never stop trying to be better. Read books, attend courses, watch videos, find mentors, and continually seek opportunities for personal and professional development. Finally, teach what you learn to others, conceptualizing and internalizing your thoughts and ideas.
An ability to deliver beyond what's expected of them. Good treatment is not good enough, make it awesome, so awesome that people talk about it.
To be authentic leaders, practicing what they preach and inspiring others through their own actions.
To be courageous when facing challenges, change, or rejection. Don't let fear stop you, use it to motivate you.
To love unconditionally. Be kind. Give more. Be a good person.
To accept responsibility and give no excuses. Recognize there are no failures, only opportunities to learn.
To have fun but be willing to work hard, showing up energized, ready to help others.
To show you care. Genuine care for your patients and teammates is often more important than your education or experience.
Learn About Our Approach To Care:
Together, these core components produce a synergistic result that's greater than the sum of their parts. We're committed to providing our clients with the best possible care, and our "Synergistic Method"™ is just one of the ways we achieve that goal.
Final Words
At CWC Sport Therapy, we are committed to fostering a culture of excellence and growth. We understand the value of building strong connections and are always open to connecting with passionate therapists who share our values and are interested in potential future opportunities.
If you're passionate about sport therapy and are looking for a team that prioritizes patient care, professional development, and work-life balance, we'd love to hear from you! Please visit hit the button below and submit your resume. Let's start a conversation about how we can grow together. Once submitted, we'll get back to you within 24hrs, often sooner.