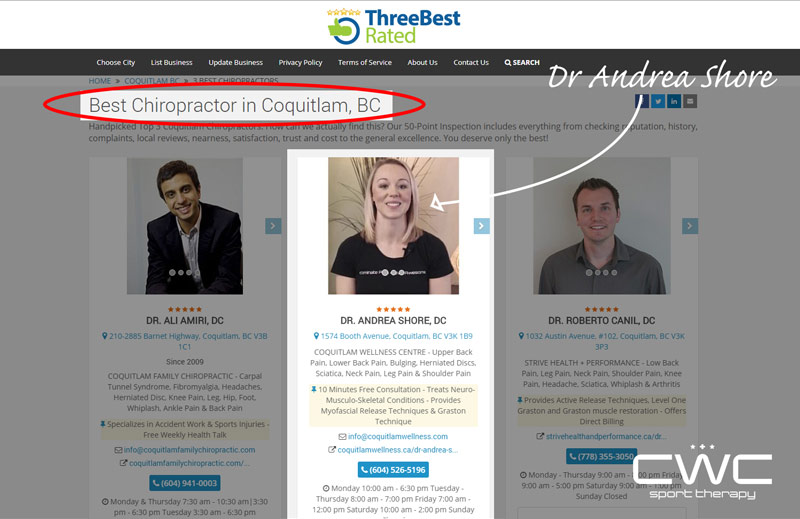 Dr. Andrea Shore has been awarded the title of "best chiropractor in Coquitlam" by threebestrated.com. Need relief? Give us a call today at 604-526-5196.
WHY CHOOSE OUR CHIROPRACTIC CARE?

Over 75 five star reviews proves our commitment to delivering best-in-class care. 

Our unique approach to care designed to effectively eliminate pain & unlock your genetic potential. 

No need to go anywhere else; we have Physio, Chiro, RMT, Kin, & Lifestyle Coaches. We ensure you're paired with the correct practitioner at the correct time. 
MEET COQUITLAM CHIROPRACTOR DR ANDREA SHORE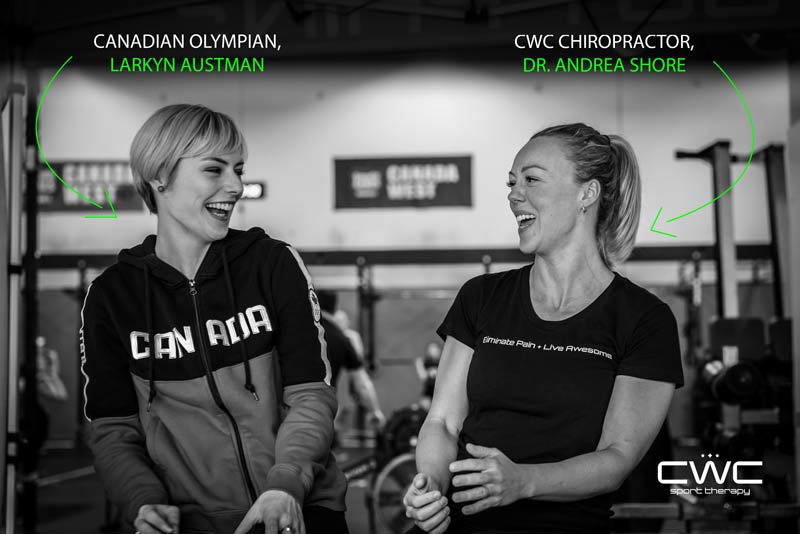 Dr. Andrea Shore:
Dr. Shore is a Coquitlam Chiropractor who graduated from the Canadian Memorial Chiropractic College. She treats a variety of neuro-musculo-skeletal conditions in all areas of the body; including, back pain, disc damage, sciatica, whiplash, headaches, sports injuries, ankle sprains, muscle strains, and more.  She practices in a holistic manner with an individualized approach to each patient. Finally, she attributes the improvement in overall wellness in her patients to her integrated approach, utilizing such techniques as myofascial release techniques, Graston Technique®, spinal manipulative therapy and progressive rehabilitation in association with clear and open patient education and communication.
Who Does She Treat?
Most often, Dr. Shore is treating everyday people that suffer from aches and pains. She also works with elite athletes including Canadian Olympian, Larkyn Austman and dozens of high level fitness competitors. She works with numerous families, treating moms, dads, and kids of all ages.
What You Can Expect:
It's starts with discovery. At CWC we offer much more than a standard 5 minute chiropractic adjustment. Our therapist start each session listening to you, learning more about your goals and your body. During your initial session you'll have up to an hour to work one-on-one with your therapist. With your consent, you will also receive hands-on treatment in your initial session; starting the healing process and move you towards your goals. Finally, you will leave with a comprehensive treatment plan, helping to ensure the elimination of your pain and optimization of your body.

"Dr. Shore is incredibly knowledgeable, professional, and personable. Her priority is getting you back on track to being whole again whether it's a short term or long term injury."* – Felicia Juelfs

"Hi! From the first time I walked into Dr Andea Shore's office I knew I was going to recover. I suffered a pretty severe neck injury that caused me great physical pain, discomfort coupled with a great deal of anxiety an depression. Dr Shore's bed side manner coupled with her hands-on approach to supporting my recovery are a HUGE reason why I am on track for a full recovery. Dr Shore helped me to change my movement patterns, my outlook on exercise and how to prepare properly. To say I'm satisfied with the support, the service and encouragement would be an understatement!"* – Todd Ware

"For well over a year I had been trying to figure out what was wrong with my shoulders, without success. I had a very limited range of motion in my shoulders and was experiencing pain when I moved the wrong way. On the advice of my RMT, I went to see Dr. Andrea Shore, who diagnosed my problem on the first visit – adhesive capsulitis aka frozen shoulder. Within four to five visits I had my range of motion back and no more pain. I am thrilled with the results and would highly recommend Andrea to anyone who has this problem."* – Nancy Page

"I have tried many different treatments over the years to deal with migraine headaches. Working with Dr. Shore has made a huge difference by not only drastically reducing the number of headaches I have but also increasing my overall mobility. This is chiro as you have never experienced it!"* – Cassandra Boone
*Individual results may vary.
OUR CHIROPRACTIC TREATMENT APPROACH
This combination of therapy is backed by empirical evidence and often produces a lasting resolution of pain.

"Andrea is an amazing practitioner who utilizes a wide array of techniques and therapies to keep me in tip-top shape. She's always enjoyable to work with and I leave feeling not only physically better but also more positive about my body and any injuries or issues I may be facing. I wouldn't be able to do half the things I enjoy doing as a competitive athlete without Dr. Andrea Shore on my team!"* – Katrina Smith

"I had tried massage, chiro and acupuncture for years in past and received little result so I decided to give it a shot. Andrea diagnosed my injury quickly and helped me to resolve my pain. I noticed a vast improvement very shortly afterward with a treatment plan and exercises that i could work do on my own between sessions. She put the power in my hands and helped me to heal. Unlike past experiences what she said made sense and put the power in my hands to work on my own health instead of many costly visits waiting for the promises of better mobility and less pain to come around but inevitably fail. Andrea has been professional, effective and up front, I highly recommend Coquitlam Wellness Center to anyone sick of living with pain."* – Bill Forest
FREQUENTLY ASKED QUESTIONS

OFFICIAL THERAPISTS OF THE CANWEST GAMES
The CanWest Games are Canada's largest functional fitness event, hosting thousands of athletes and spectators. CWC is a proud supporter and holds the distinctive title as "the official therapists of the CanWest Games".
WE ARE CURRENTLY ACCEPTING NEW PATIENTS AND OFTEN HAVE SAME DAY APPOINTMENTS AVAILABLE
REQUEST A FREE CONSULTATION WITH ONE OF OUR DOCTORS
If you're still not ready to book your initial discovery session, please feel free to book a FREE 10 minute consultation with one of our Doctors. They will happily answer any questions you might have and help determine if CWC is the right clinic for you.