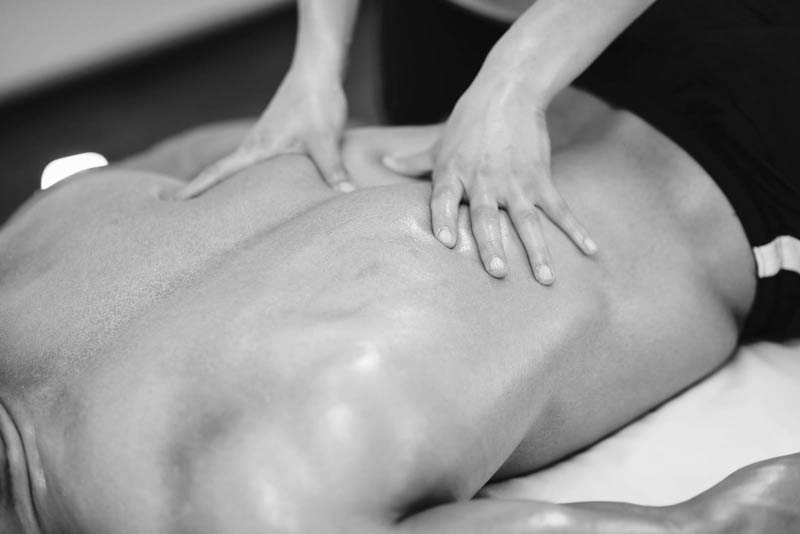 Our Registered Massage Therapists deliver best-in-class massage therapy to patients of Coquitlam, BC and beyond. Need relief? Give us a call today at 604-526-5196.
WHY CHOOSE OUR MASSAGE THERAPY?

Over 75 five star reviews proves our commitment to delivering best-in-class care. 

Our unique approach to care designed to effectively eliminate pain & unlock your genetic potential. 

No need to go anywhere else; we have Physio, Chiro, RMT, Kin, & Lifestyle Coaches. We ensure you're paired with the correct practitioner at the correct time. 
MEET COQUITLAM MASSAGE THERAPIST DALLAS GENEREUX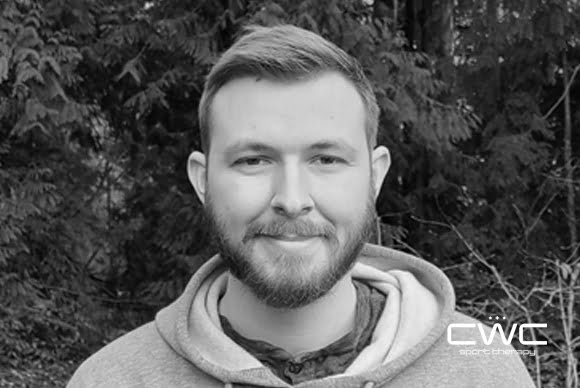 Dallas Genereux, Registered Massage Therapist:
Dallas has had the pleasure of working with a variety of patients with different conditions in multiple settings, including working with the varsity sports teams at UBC, patients with neurological conditions at George Pearson Center, patients with MS and Parkinson's in WCCMT's SPEC program, and pre/post-natal care with women at the student clinic in New Westminster.
Who Does He Treat?
Most often, Dallas is treating everyday people that suffer from general aches and pains. Dallas also enjoys working with a number of high performing athletes. Finally, he works with a variety of small families, treating moms, dads, and kids of all ages.
What You Can Expect:
Dallas starts each session listening to you, learning more about your pain, your goals, and your body. During your initial session you'll have up to an hour to work one-on-one with her. He'll assess your pain by performing several orthopedic tests and begin hands-on treatment with your consent. During  treatment Dallas will keep an open line of communication, checking in often to make sure you are comfortable and that the pressure used is within your tolerance. Finally, you will leave with a comprehensive treatment plan, helping to ensure the reduction of your pain and optimization of your body.

"I've tried so many things in the past so I was unsure if the RMT could help. I'm so glad I tried CWC! Incredibly knowledgeable, professional, and personable RMT" – Felicia Juelfs

"Excellent Chiropractic and massage treatments. I would highly recommend a visit to these RMT. I have come in for treatments for a variety of injuries. Post treatment I always find I feel better and have improved mobility."* – Jeanelle Methot

"The level of knowledge and expertise they bring is unparalleled. They are able to figure out exactly what the issue is and immediately treat the source of the problem. I will not go anywhere else. Best RMT around. Thanks guys for giving me my life back!!"* – Max Beaulieu

"All the care I have received at Coquitlam Wellness Centre has been absolutely amazing. All my needs have been met or exceeded. The best part about it is they genuinely care about your well being and recovery. Would highly recommend this place to everyone!"* – Chris Legault
*Individual results may vary.
OUR MASSAGE THERAPY  TREATMENT APPROACH
This combination of therapy is backed by empirical evidence and often produces a lasting resolution of pain.

"Incredibly knowledgeable and engaging practitioners. Not only do they identify and start to correct any imbalances during appointments, but they provide me with stretches and exercises to continue this work on my own time. After a couple months of treatments I'm moving better at the gym, sitting more comfortably at work, standing taller and feeling better than ever! I couldn't be happier with the treatment I've received and will definitely continue booking in the future."* – Brandon Labbe

"This clinic is absolutely amazing. No matter what my injury is they always somehow put me back together. I have been to other clinics but CWC's techniques and expertise will keep me coming back. I always refer my close friends and family to this clinic. If you haven't been, I suggest you go!"* – Jessica Harvey

OFFICIAL THERAPISTS OF THE CANWEST GAMES
The CanWest Games are Canada's largest functional fitness event, hosting thousands of athletes and spectators. CWC is a proud supporter and holds the distinctive title as "the official therapists of the CanWest Games".
WE ARE CURRENTLY ACCEPTING NEW PATIENTS AND OFTEN HAVE SAME DAY APPOINTMENTS AVAILABLE
REQUEST A FREE CONSULTATION WITH ONE OF OUR CHIROPRACTIC DOCTORS
If you're still not ready to book your initial discovery session, please call and book a FREE 10 minute consultation with one of our Chiropractic Doctors. They will happily answer any questions you might have and help determine if CWC is the right clinic for you.